Hebrews Part 6 - Life is a Race
— Hebrews 12:1-13
Andrew Fountain — May 11th, 2011
Runners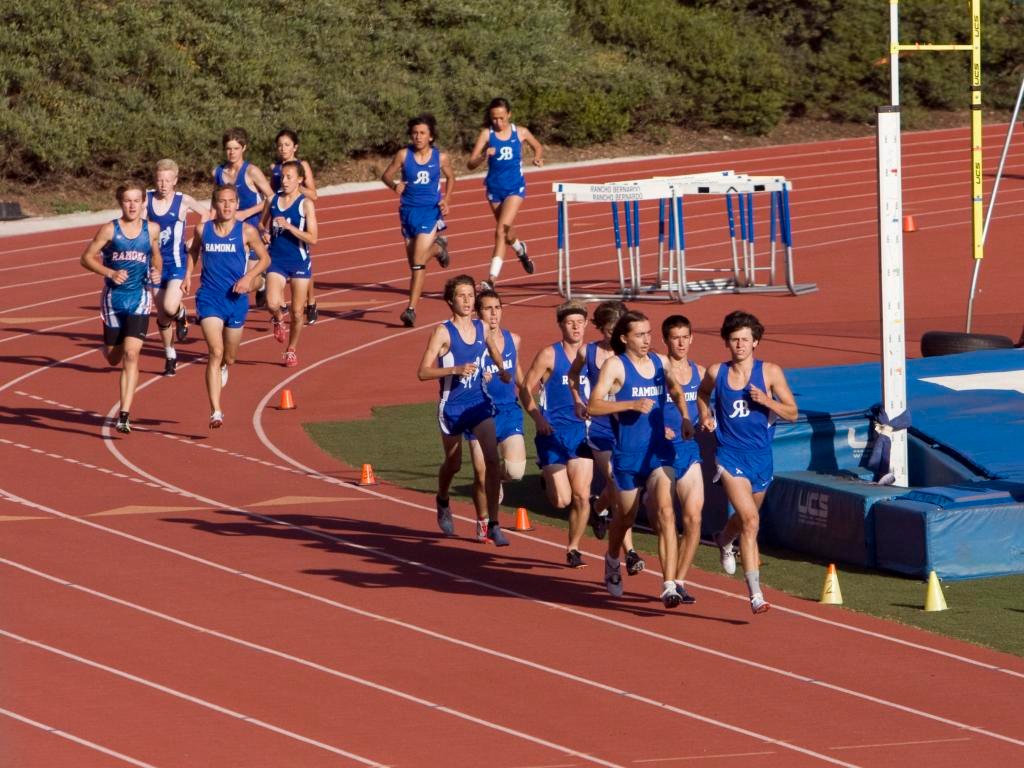 Are you weary in the race today?

Is life just too much for you, or following Jesus too much?

Athletes

Why do some athletes give up and some keep going?
Some you have doubts from the start because you are worried about their motivation
More Runners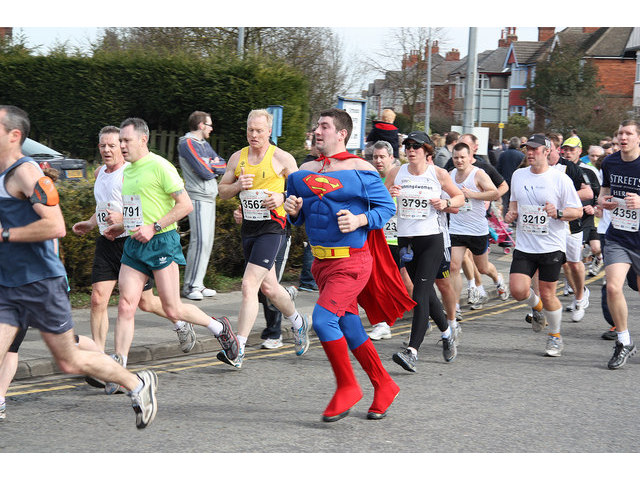 What is the problem with this guy

If his number one motivation was to finish the race, what would be different?

Let us imagine someone who is seriously out of shape
Fat Cat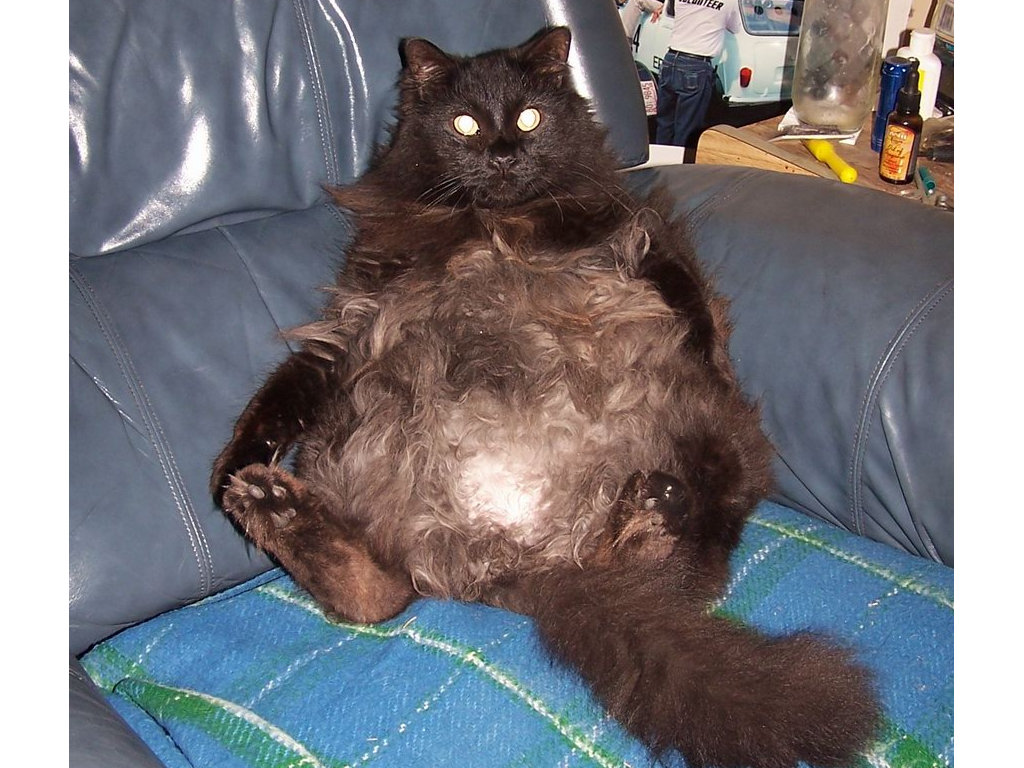 If he fills his mind with images of food all day, what is going to happen?
If, on the other hand, his hero is the gold medal winner of the cat-O-lympics

And he spends all day thinking about his hero...
So there are

Two Principles
Don't wear unnecessary stuff
Don't keep your eyes on what you don't want to be

Keep your eyes on your hero
Hebrews 12:1-4
1Therefore, since we are surrounded by such a great cloud of witnesses, we must get rid of every weight and the sin that clings so closely,
and run with

endurance

the race set out for us,
2keeping our eyes fixed on Jesus, the pioneer and perfecter of our faith.

For the joy set out for him he

endured

the cross, disregarding its shame, and has taken his seat at the right hand of the throne of God.

3Think of him who

endured

such opposition against himself by sinners,
so that you may not

grow weary

in your souls and

give up

.
4You have not yet resisted to the point of bloodshed in your struggle against sin.
The enemy is sin—like heavy clothing that is dragging you down

see it for what it is!
see the long-term damage it is going to do you

Endure by keeping our eyes fixed on Jesus

Example of someone learning to drive, look at where they want to go not focusing on what they want to avoid, or they will hit it
Example of a sports player—keep your eye on the ball!
How do we actually do this?

thinking a lot about Jesus

Do we keep focusing on my mistakes, or on Jesus?
Runner who keeps looking back at where they have put their feet wrong!

prayer, trying to copy him (like a child does his/her mom or dad)

Read about his life, breathe it in

a problem—often we don't see Jesus as copyable—he is superhuman

That is not what is being said here—we actually should see him as someone we should try to copy
children like to copy their parents (e.g. plastic steering wheel in car)
Now we are going to move on to the next part of the passage

This has some difficulties, especially in some translations
I am going to read it in the King James, which has a problem
Hebrews 12:5-11 (KJV)
And ye have forgotten the exhortation which speaketh unto you as unto children, My son, despise not thou the

chastening

of the Lord, nor faint when thou art rebuked of him:
For whom the Lord loveth he

chasteneth

, and

scourgeth

every son whom he receiveth.
If ye endure

chastening

, God dealeth with you as with sons; for what son is he whom the father

chasteneth

not?
But if ye be without

chastisement

, whereof all are partakers, then are ye bastards, and not sons.
Hebrews 12:5-11 (KJV)
Furthermore we have had fathers of our flesh which corrected us, and we gave them reverence: shall we not much rather be in subjection unto the Father of spirits, and live?
For they verily for a few days

chastened

us after their own pleasure; but he for our profit, that we might be partakers of his holiness.
Now no

chastening

for the present seemeth to be joyous, but grievous: nevertheless afterward it yieldeth the peaceable fruit of righteousness unto them which are exercised thereby.
This is a difficult passage

It looks like God is beating us to knock some sense into us
The King James translates v.6 as "scourgeth" which is a particularly nasty form of beating
Is God a heavy-handed father who is constantly bringing bad things into our lives to "correct" us?

This leads to an attitude (very common)

whenever something goes wrong in our lives we must have done something wrong and God is punishing us.

The problem here is that the word does, in fact, literally mean scourge or whip.

(Every other usage of it in the N.T. refers to Jesus being scourged)
But the noun, can be use of sicknesses
So does God whip us?

I'm going to give a technical explanation here, so you have my permission to switch off for a minute if that's not your strength
Proverbs 3
My son, do not despise the

Lord

's discipline
or be weary of his reproof
for the

Lord

reproves him whom he loves
as a father the son in whom he delights.
First, v. 5,6 are a quote from Proverbs 3:11-12

In the Hebrew, the word is a very general word for rebuke
There is a principle that a good father instills good values and discipline into his children

There is no overtone of harshness

This Hebrew was translated into Greek, 300 years before Jesus, in what we call the Septuagint

The word "reprove" in Hebrew did not have an exact equivalent, so they chose "whip" with the understanding of the context was not of literal harshness, but more of loving correction
The writer to the Hebrews has quoted the Greek here, but anyone knowing the original Hebrew would know that it was not to be understood harshly
That is why good modern translations will say "correct" or "chastise"
It would be quite wrong to translate it as something viscious

Here is a better translation of the passage:
---
Hebrews 12:5-11
And have you forgotten the exhortation addressed to you as sons?

"My son, do not scorn the Lord's

training

or give up when he corrects you.
6For the Lord

trains

the one he loves and chastises every son he accepts."
Endure

your suffering as

training

; God is treating you as sons.
For what son is there that a father does not

train

?
But if you do not experience

training

, something all sons have shared in,
then you are illegitimate and are not sons.
Besides, we have experienced

training

from our earthly fathers and we respected them;
shall we not submit ourselves all the more to the Father of spirits and receive life?
For they

trained

us for a little while as seemed good to them,
but he does so for our benefit, that we may share his holiness.
Now all

training

seems painful at the time, not joyful.
But later it produces the fruit of peace and righteousness for those given

excercise

by it.
The word translated by the KJV as "chastise" is a broad term for the training of children

The word is used of Paul's education under Gamaliel

The context here is of the athlete

In that context, the best word I think is training — disciplined hard training
(I have put "training" because it would be too cumbersome otherwise, but that is how it should be read.)

It is very important that we get the right feel from this passage

God wants us to win! He want to be there on the finishing line, cheering you on as you win.
He is a

loving father

to us, not a harsh master
It is for us he is doing it, not for him!

v.11 is about the athlete
e.g. Hockey dad interviewed on the radio

costs $1,000/yr +
Getting up very early on weekend mornings

So the King James translation makes no sense in this context of a race

The emphasis is on God's commitment to get us to be the best we can be

Notice also all the "son" references

see them also in Hebrews 5
Compare with Hebrews 5:7-9
During his earthly life Christ offered both requests and supplications, with loud cries and tears, to the one who was able to save him from death and he was heard because of his devotion.
Although he was a son,

he learned obedience

through the things he suffered.
And by being perfected in this way, he became the source of eternal salvation to all who obey him,
Difficult verse!
Was Jesus a bit disobedient before, and learned to be obedient?

No, it was a new experience of it

Some of you may have passed driving tests recently

Learn in the classroom first... ?

How was Jesus imperfect?

The original word
"Uncompleted" might be a better word. He was completed as a human by going through this experience

I am really trying to attack the idea that every time something goes wrong, it is because God is angry with us

very damaging
Did Jesus suffer hardships?

Yet this was not God's anger on him

e.g. starved for 40 days

God tests us to strengthen us.

so stressed that his sweat was like drops of blood!
Heb 12:12-13
Therefore,

strengthen

your

listless hands

and your

weak knees

,
and make straight running tracks for your feet,
so that what is lame may not be put out of joint but be

healed

.
Pain in training to an athlete is different

ever heard "no pain no gain"? —what does it mean?

e.g. Dentist's chair —because I know it is for my good, I can endure it easily

Our perception of the pain is so important—it controls whether the pain is suffering or seen as positive

What about difficulties in your life right now?

Do you see them as opportunities to grow and be stronger and fitter?
How are you being trained and developed?
Three points
Don't wear unnecessary stuff
Don't keep your eyes on what you don't want to be

Keep your eyes on your hero

Embrace the problems—they are stretching you and perfecting you, even as with Jesus

Attitude changes everything
Updated on 2011-05-12 by Andrew Fountain